Student Spotlight: Cantor Shira Nafshi, Temple Beth Jacob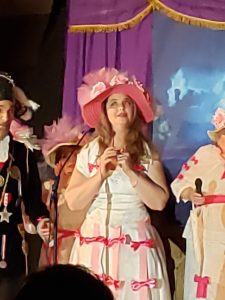 Temple Beth Jacob's Purim Spiel
Another of my talented students, Shira Nafshi, serves as Cantor at Temple Beth Jacob in Concord, NH. One of the more interesting aspects of TBJ is their annual event called Purim Spiel (pronounced "shpeel").
The Purim Spiel is an annual fundraiser for TBJ. It was started in 1998, and has a non-professional cast (exception being Shira), including the band and the director.
This year's Gilbert and Sullivan-themed spiel, "Pirates, Pinafores, Purim!" was written by Dr.Alan Gaby who has written several spiels over the last number of years.  Previous years' themes have included: "In a Purimspiel State of Mind: The Megillah According to Billy Joel," "Spielin' Groovy: They Rhymes They Are A Changin: The Megillah according to Bob Dylan and Paul Simon," "Let it Spiel: The Megillah According to The Beatles," and "The Sound of The Music Man: The Megillah according to The Music Man and The Sound of Music."
These "adaptations" of popular artists or musicals always tell the Biblical story of Haman and Rebecca. I attended a rehearsal of this year's "G&S" themed event, and it truly cracked me up. The congregation members were so into it – funny, talented, hamming it up, and generally having a blast. It is truly a testament to the wonderful sense of community and love that TBJ fosters in Concord. Oh, and the erudite narrator of this year's presentation was none other than TBJ's Rabbi, Robin Nafshi, who is also Shira's wife.