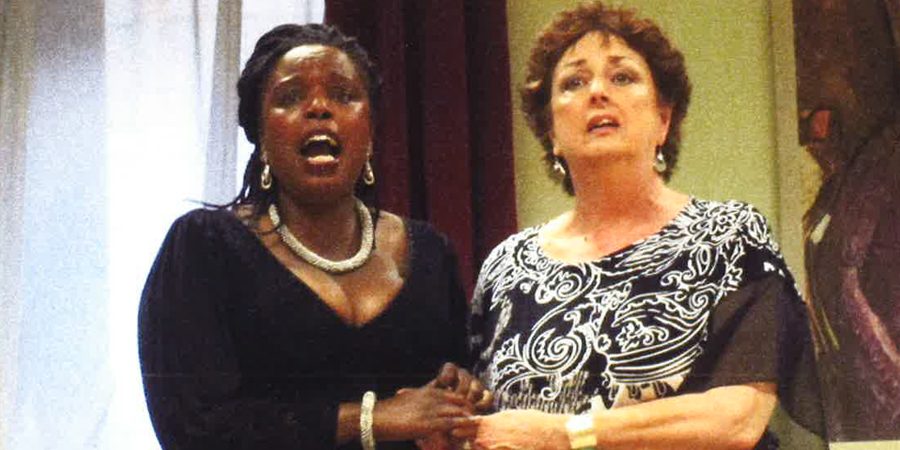 Acclaim
Arizona Opera Ring Cycle
Fricka in Das Rheingold and Die Walküre (1993, 1996-1998)
Janice Edwards, the cast's Fricka, was a godly queen to pay attention to. With both the full heroic voice to shake the balcony and the dramatic focus to undo Wotan's conniving, she cut a figure of an uncompromising authority.
The Tucson Citizen
January 1993
Janice Edwards's Fricka was an excellent combination of vocal power and dramatic skill.
Opern Welt
August 1996
In the moment when Fricka speculates what she can get from the magic gold, Edwards personified self-serving greed.
Arizona Sun
June 1998
What of the singers? Here were surprises aplenty…here, heard perhaps the best Fricka (played by Janice Edwards) we had ever encountered.
Wagner News (London Wagner Society)
December 1998
Janice Edwards…sang beautifully, her rich, dark voice projecting righteous indignation, while maintaining a steely dignity. She was the moral center of the opera.
Wagner Notes
Wagner Society of NY
June 1993
Granite State Opera Appearances
"Janice Edwards, who played Amahl's mother, had an amazing voice that was able to stir emotion from the recesses of the unconscious."
Amahl & the Night Visitors (The Mother)
Hippo Press
January 2001
"Mezzo-soprano Janice Edwards made for a focused and frightening Azucena …"
Passion, Perils and Pandemonium
Hippo Press
April 2002
"Edwards is blessed with a full, rich, controlled voice ... a strongly dramatic performance."
Hippo Press
A Celebration of American Opera
March 2003
"Janice Edwards as Marcellina gives one of the best performances in this role that I've seen."
Le Nozze di Figaro
Hippo Press
November 2004
"Mezzo-soprano Janice Edwards as Marcellina ... gave us a fine performance ... and maintained good voice throughout and contributed a fair amount of talent, helping make this strong ensemble effort so successful."
OperaOnline.us
November 2004
Other Opera and Concert Reviews
The five Wesendonk-Lieder became a simple narrative about profound emotions, incredibly well carried by Janice Edwards' darkly colored voice. Here, too, one could speak of balance of sound, both in relation to the vocal soloist, who closely approached the orchestral sound and let herself be accompanied instead of asserting only herself, as well as in relation to the orchestral sound itself, which joined the world that Wagner and Edwards were dwelling within.
It was therefore exciting to hear orchestra and singer in Manuel DeFalla's El Amor Brujo for orchestra with sections for vocal soloist. Here the mood was completely different. Edwards was entirely a different person with a vocal sound more deep, more passionate – yes, on my program I made the note "wile" – in that Spanish "Carmen-like" way. And the orchestra followed up on the change from one world to the other. A very convincing achievement.
Randers Amtsavis
1997
New Hampshire Symphony - Mahler: Symphony No. 2 ("Resurrection")
"Of the many musical high points, a few stand out ... mezzo-soprano Janice Edwards ... filled the church with a rich, warm sound and left the audience wanting more."
Hippo Press
April 2004
Eric Sawyer: Our American Cousin
"…the mother and daughter Mountchessingtons' (Janice Edwards and Hillarie O'Toole) cap-setting duet "A Really Monied Man" provided welcome comic relief to the almost surreal, temporally manipulated textures that prevailed throughout much of the opera. The duet garnered one of the few moments of mid-opera applause that the score admitted."
The Republican
Springfield MA
June 2008