Making a Video in my Studio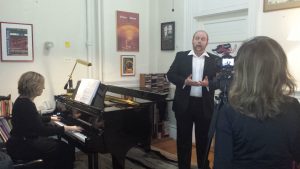 On Saturday, February 11, Max MGrath recorded a video for use with upcoming competitions. He recorded 3 opera arias, 2 musical theatre pieces, and a song by Kurt Weill. We are so grateful that the wonderful Elizabeth Blood was on hand to accompany, and Debora Cote of Ave Productions was the talented videographer. You can find contact information for both Elizabeth and Debora on the Resources page of my website.
My studio at 83 Hanover Street in Manchester, NH has wonderful acoustics for audio or video recordings. I offer this service to non-studio singers as well as my own students. Please contact me for information.