Cantor Shira Nafshi – From Bimah to Broadway
On Saturday evening, March 9, my student  Shira Silverman Nafshi  performed a benefit concert at Temple Israel of Portsmouth (NH) with her colleague Cantor Micah Morgovsky. These two lovely and talented women presented a concert cleverly called "From Bima to Broadway".
The first half consisted of traditional pieces mostly sung in Hebrew with liturgical texts. Both cantors had solos and a few duets. The highlight of this first half for me were Max Helfman's setting of "The Voice of My Beloved:, gorgeously sung by Shira, and "I am My Beloved's", also beautifully sung, by Micah. They ended the first half with a traditional Yiddish theatre song, "Bei Mir Bist Du Schein" by Shalom Seconda.
The second half consisted of some Broadway favorites that highlighted the humor and skill of each artist who moved smoothly from the mostly serious bent of the first half to the very funny songs from traditional and contemporary musical theatre repertoire. The first half began with Rossini's ever-popular "Cat Duet", then moved on to songs of Gary Shocker, Harvey Schmidt, Jason Robert Brown, Irving Berlin, among others. There was even a "Hamilton" song sung by Micah, &"Burn."
I can't say enough about Shira's beautifully floated high notes, her hilarious humor in the Broadway songs, and her artistry as a singer and a cantor. She is a blessing in my life and I am so proud of her.
Shira and Micah were ably accompanied by Heather Maconaghy.
Here are photos of Shira and me, and with Micah right after the concert.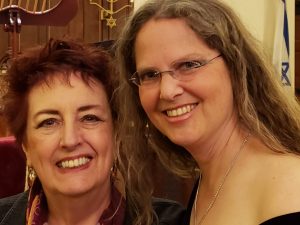 Janice Edwards and Shira Silverman Nafshi