Boston Wagner Society Fall 2018 Concert – "Wagner: Mythology, Mysticism, and Masters"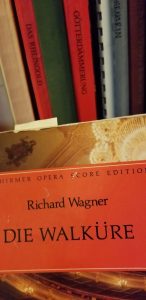 In late November, I shelved my Die Walküre score after many months of working on Siegmund/Sieglinde's scene and Fricka/Wotan's scene, in preparation for the Boston Wagner Society's fall concert, "Wagner: Mythology, Mysticism, and Masters", presented at Old South Church on Sunday, November 11. This was a marvelous concert, long in the planning, presenting scenes from The Ring Cycle, Parsifal and Die Meistersinger.
I was privileged to perform with the distinguished artists Mezzo-Soprano Joanna Porackova, Helden Tenors  Peter Furlong and Adam Russell, and the unsurpassed bass baritone Alan Held. Jeffrey Brody was our fabulous pianist, playing Wagner's music in perfect style.
I felt very much at home with Fricka, having sung the role many times in the 1990s with Arizona Opera. Alan Held was a perfect foil as Wotan when Fricka railed him mercilessly about his condoning a filial union between Siegmund and Sieglinde.
Prior to that scene, Peter and I sang the "adulterous pair" in an excerpt of Act I, Scene III, including the two beautiful arias "Winterstürme" and "Du bist der Lenz".
I immodestly admit that this concert was one of my personal best performances, both vocally and dramatically. I owe this to superb coaching as well as many, many weeks of steadfast preparation. Listen up, singers…sing EVERY DAY, and you will achieve vocal longevity.
Below is a photo of me with Alan, after the concert; tenors Adam Russell and Peter Furlong with the Society's president Dalia Geffen. Also pictured are me with Peter and our mutual colleague, bass Philip Lima, who has sung in previous Society concerts. It was wonderful to see Phil!
I am so gratified that a number of my friends and colleagues and voice students attended this concert, venturing to Boston on a blustery afternoon to partake of Wagner's glorious music.
Here is a most gratifying quotation from Peter Furlong's New Year's Facebook post. Thank you, Peter!