Three exciting events are on the horizon this fall
Purely Wood Furniture Open House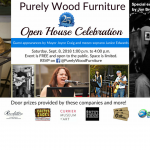 First, on Saturday, September 8, 1:00-4:00 PM - Purely Wood Furniture celebrates its 25 years in business with an Open House Event. Local luminaries, artists, and musicians will be on hand, including yours truly and a special guest appearance by Mayor Joyce Craig. As a tribute to my favorite American composer, Leonard Bernstein, I will sing a song from his Broadway show 1600 Pennsylvania Avenue, "Take Care of This House." This event is FREE.
"LB - A Commemoration of the 100th Anniversary of the Birth of Leonard Bernstein"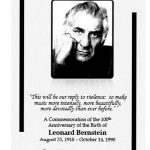 On Sunday, October 14, my talented students present and past will sing their hearts out in songs from On the Town, West Side Story, Wonderful Town, and Candide, with the inspiring "Make Our Garden Grow" as the finale. The venue is Grace Episcopal Church, 160 Lowell Street in Manchester. Cash admission is $5.
Boston Wagner Society: "Wagner: Mythology, Mysticism, and Masters"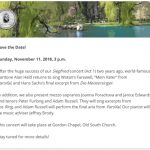 TA-DAH! November 11 will find Janice at Old South Church's Gordon Chapel singing in the Boston Wagner Society's fall concert. Here is the official BWS publicity blurb:
After the huge success of our Siegfried concert (Act 1) two years ago, world-famous baritone Alan Held returns to sing Wotan's Farewell, "Mein Vater" from Parsifal, and Hans Sachs's final excerpt from Die Meistersinger.
In addition, we also present mezzo-sopranos Joanna Porackova and Janice Edwards and tenors Peter Furlong and Adam Russell. They will sing excerpts from the Ring, and Adam Russell will perform the final aria from Parsifal. Our pianist will be music adviser Jeffrey Brody.
I am beyond excited to be singing with these distinguished artists, not the least of which is the world-famous baritone Alan Held. Alan and I will be singing the opening to Act II of Die Walkure, in which Fricka and Wotan battle it out over Sieglinde and Siegmund's "unholy pairing" (Fricka, being the goddess of marriage, is none too happy about twins falling in love and, well, you can just imagine the rest).
The concert begins at 3:00 pm. Ticket prices are $35 for the general public, $25 Boston Wagner Society members and $10 for students.