The Janice Edwards Voice Studio – movin' on up!
In 2020, I was able to move from the 2nd floor of 83 Hanover Street in Manchester, NH, to a larger space on the 4th floor. This was a beautiful space with natural light and 4 walk-in closets with built-in shelves…a dream come true for many reasons (not the least of which – storage for my many, many music scores).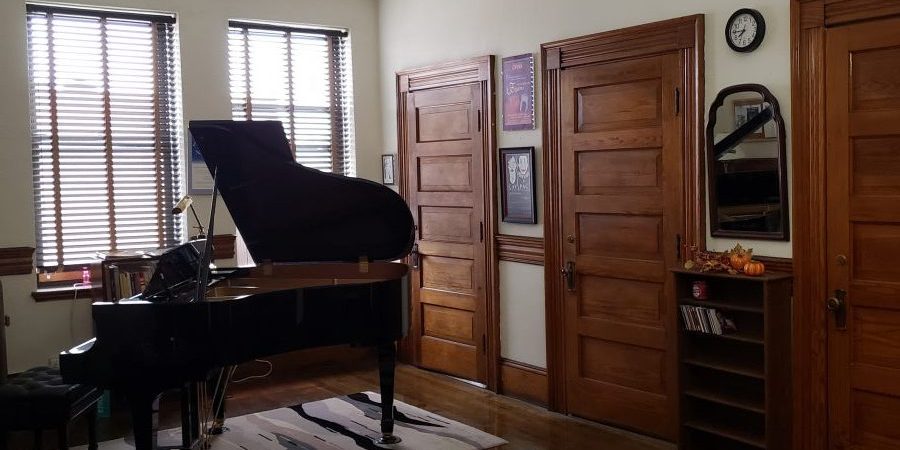 In the late spring of 2021, I and other tenants of 83 Hanover learned that the beautiful, historic property was purchased by a local developer that planned to gut the building and turn it into 47 rental apartments. I needn't mention how upsetting and unsettling this was, after 21 years of teaching at 83 Hanover.
For all of the summer of 2021, I agonized over where to move my voice studio. I naturally wanted to stay in the area of mid-town Manchester. But the main concern was, singing and piano playing are NOISY. Which business would agree to rent a space to a music studio?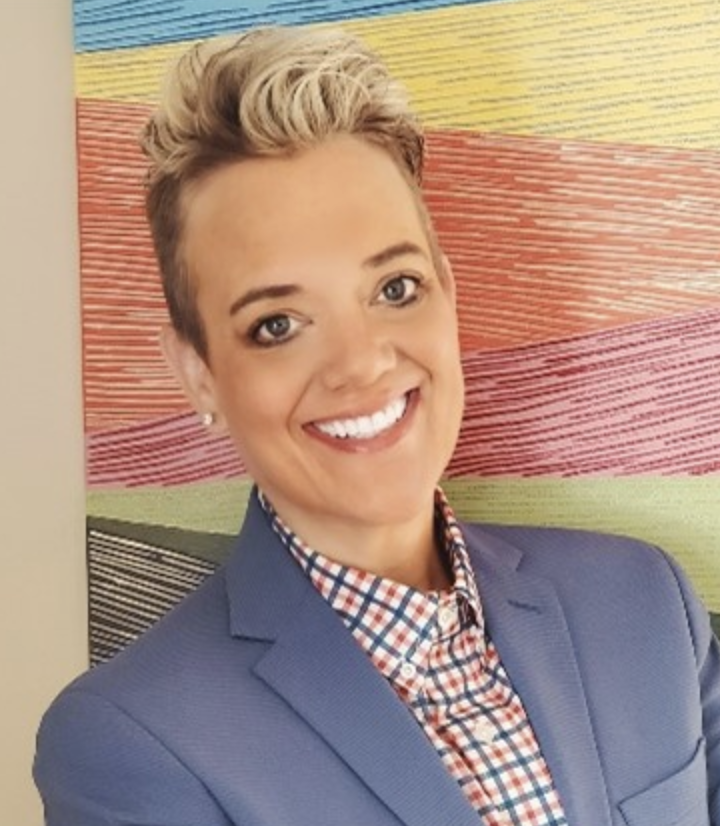 My dear friends at the LMC Group came to my rescue. Kristen Carroll, founder and CEO of the LMC Group, has been a dear friend (and voice student) for the past 5 years. LMC was my neighbor at 83 Hanover (hereinafter "83") on the 2nd AND 4th floors, and now they are my neighbors at 848 Elm Street, where I moved the studio in October of 2021. 
When LMC found a space at 848 Elm (hereinafter "848"), their suite of offices included a space for my studio. Words cannot express how grateful I am to Kristen, Joey, Kato, and Lucas for their support and assistance on so many levels.
848 Elm is about a block away from Hanover Street. The transporting of music scores, CDs, and other items (bookcases, small love seat, small furniture items) was accomplished in a rather unique manner. I had considered loading boxes into my Rav 4, but that would mean a lot of "heavy lifting" into the car, driving down the block, searching for a parking space on busy Elm Street, then unloading the boxes into the elevator at 848.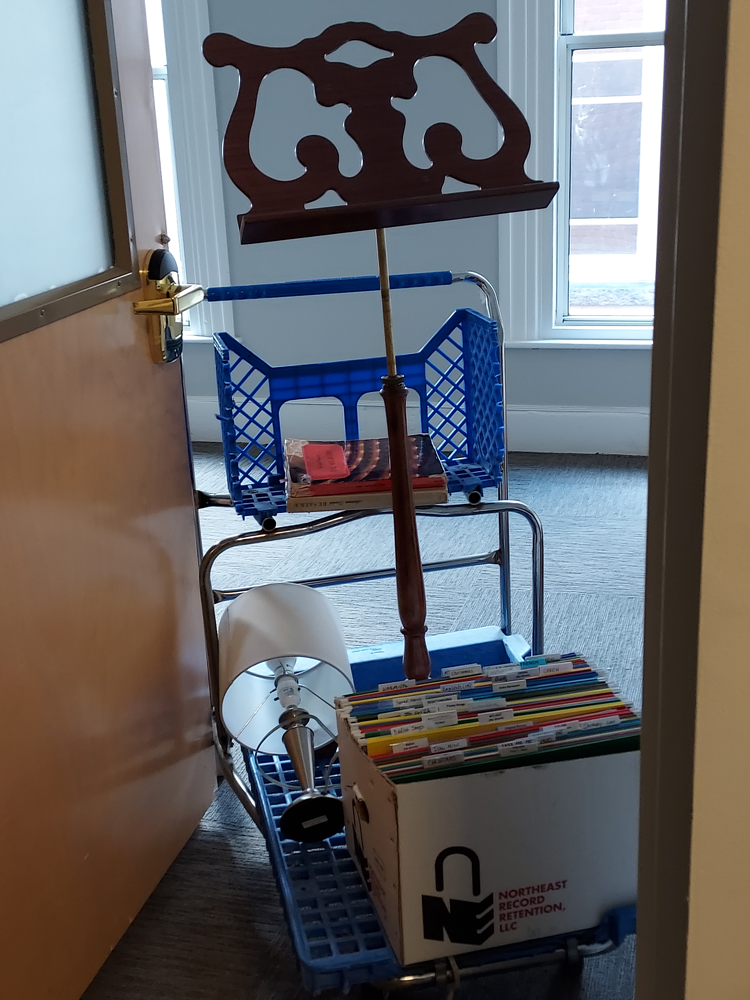 One day I spotted at 83 a rather beat-up "rolling utility cart" and got the bright idea of "rolling" the boxes, etc., down the block and into the new studio at 848. This happened over a period of nearly a month. I probably appeared to be a homeless person as I trekked across Elm Street rolling the cart loaded with cartons and some rather old furniture! That said, with the help of students and friends, I was able to move everything except the piano over a period of 3 weeks or so.
About the piano, my beloved Boston Baby Grand. In September, I was lucky enough to locate a local piano mover, Mt. Auburn Piano Movers, and scheduled the piano move for Monday, November 1. These guys were so efficient, friendly, and respectful of my instrument. The move was accomplished safely in a matter of about 90 minutes. Whew! Bill Faller tuned my baby grand a few days later and I was OPEN FOR BUSINESS that very afternoon.
I am very grateful to Janet Wittenberg, Anne Orio, Dustin Teuber, Mitch Sawaya, and Jenny Masana for helping with much of the "heavy lifting."
My new studio is cozy, with central air and heat; clean restrooms nearby, and a prime location. All of my students have now had lessons at 848 and the verdict is in: they love the atmosphere, resonance, and location.
Here are photos of Mt. Auburn Piano movers – carefully loading into 83 elevator and reassembling for 848. The faithful "rolling utility cart", and other self-explanatory photos.