Student Spotlight – Andrew Sokol – Canzone per Nana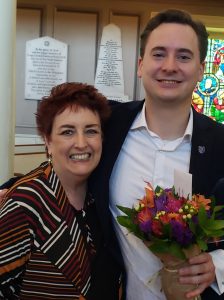 I could not be more proud or inspired by tenor Andrew Sokol's concert this afternoon, entitled "Canzone per Nana".
The program consisted entirely of Italian/Neapolitan songs (15 total, plus an encore), and was dedicated to the grandmother of Andrew's partner Alyssa, a native Italian who loved Andrew's tenor voice.
Now, when we started working and I had a look at what Andrew had planned, I was, well, both surprised and cautiously optimistic that one young artist had planned such an ambitious program.
That said, Andrew worked on this program for many months, and with me for the past 4 months. We went through each song with a fine-tooth comb – refining diction, style, nuanced expressiveness, and many other elements that go into Andrew's goal to present the highest level of artistry and accomplishment.
Andrew's musical intelligence, willingness to stretch himself toward greater forms of expression, and his beautiful, lyric tenor made our collaboration exciting and gratifying. In addition, his short synopsis of each song was both amusing and personal.
Here is but one example, regarding Donaudy's "L'allegro marinaro" (The cheerful mariner) which opened the program:
"The cheerful mariner is an anthem for all sailors who venture out to sea, braving the dangerous storms and even scarier tears/lectures of their mothers waiting for them at home."
Andrew performed four songs of Donaudy, two of Bellini, five of Tosti, and songs by de Crescenzo, Cardillo, Gastaldan, Toselli, and Leoncavallo…the "cream of the crop" for Neapolitan genre. For me, the highlight was deCrescenzo's "Rondine al nido" (The swallow to his nest)…surely one of the most beautiful songs ever written.
Andrew is obviously energized by an adoring audience, and he gave everything vocally, emotionally, and artistically to the audience of about 60 at St. John's Episcopal Church in Portsmouth, NH.
Andrew's lovely collaborative pianist was Jennifer McPherson.
I couldn't stop smiling throughout the afternoon…there was so much joy and love exchanged between artists and audience. Grazie mille, Andrew and Jennifer!