Student Spotlight – Max Orio – South Pacific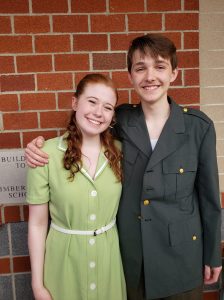 Timberlane Regional High School in Plaistow, NH presented this weekend Rogers & Hammerstein's classic musical "South Pacific." There were 2 casts, and my student, baritone Max Orio, was cast as Emile DeBeque. Max and I have worked on Emile's gorgeous songs ("Some Enchanted Evening" and "This Nearly Was Mine", among others) for several months and he certainly did himself proud.
The Performing Arts Center at Timberlane is quite impressive, with professional lighting and sound. As well, there was a 22 piece student orchestra in the pit.
All of the student actors were enthusiastic and well rehearsed and directed both in their singing and dancing. In addition to Max's outstanding performance, Ellie McCormick as Nellie Forbush was perfectly cast – Ellie's southern accent and innocence were just right for Nellie.
These photos were taken right after Saturday's matinee. Another unique touch was the program in the form of "Pacific Stars and Stripes". This photo does not do it justice, and I wonder if whoever might have come up with this clever idea explained to the young cast the significance of Stars and Stripes to all branches of the military. Just another fun and sweet detail of this delightful afternoon.
I mustn't fail to mention the support Max has had from his family – his mom Shirley Orio and his Aunt Anne Orio (also my student!). The Orio family is large and supportive and wonderful, and many of them turned out yesterday to cheer Max on.
So proud of you, Max!