Mahler & Me (Grammar expert confirms this syntax)
The third week of January was a very cultural week. If you read my lengthy blog post about the Met's Tosca, you have learned what a particularly meaningful opera this is to me.
On an entirely different musical plane is my love for another of my favorite composers, Gustav Mahler.
On Saturday, Jan. 20th, I had the privilege of hearing Mahler's Symphony No. 3 with the fantastic BSO (Boston Symphony Orchestra) conducted by Andris Nelsons at Symphony Hall. Mahler is known mainly for his "giant" symphonic works, many of which feature chorus and/or vocal soloists. Symphony No. 3 features women's and children's choruses and a brief alto solo, sung by the fabulous Susan Graham in this performance. As I listened to this work, it brought to mind my personal experiences with Mahler's larger works.
I will not offer here a comprehensive "essay" on Mahler – you can Google the master and find yourself inundated with thousands of websites regarding his works.
Instead, this is about my personal experiences performing four of his monumental works professionally both in the U.S. and Europe.
My first exposure to Mahler was in grad school at Peabody College, which is now a part of Vanderbilt University. I was required to take an advanced music theory class, and one of the first assignments was to do a harmonic analysis of one of the songs from his cycle Kindertotenlieder. Yikes! The most advanced harmonic analysis I had been required to make theretofore was Bach chorales in undergrad. QUITE A DIFFERENCE!
Needless to say, I had to get some help from a classmate for that assignment. But this certainly whetted my appetite for late Romantic German repertoire. As my vocal technique and curiosity about this genre of vocal literature grew, I purchased the piano vocal score for the Kindertotenlieder as well as a book of Strauss songs. It was love at first "sound"!
In my younger days, I dipped my toe into some of Mahler's song cycles and orchestral works, sensing how musically and emotionally complex they are, but without much "life experience" to really understand them.
I fondly recall dating a trombone player at Indiana University who was a huge Mahler fan, and had every single symphony on LP. For you younger folk, that's short for "long playing record" – those large, round, flat black vinyl things that are played with a needle on a turntable – this was long before CDs or digital anything!
We listened to these symphonies together endlessly, and every time he would change the record, I would say, "what composer is this now"? and he would always answer, "Mahler". I was totally fascinated with the variety of orchestral texture and melody.
Mahler Gig #1
Let's fast forward to getting my professional career going, and my first Mahler performance. While living in NYC in the 1980s-1990s, I enjoyed working with Alex Guzman, a professional conductor who I met working with Regina Opera in Brooklyn. Alex at the time was conductor of the New York Symphonic Arts Ensemble, an orchestra consisting of serious amateur musicians (doctors, lawyers, other professionals). It was 1993 when Alex invited me to perform the Kindertotenlieder (Songs on the Death of Children) with this excellent ensemble in the Julia Richmond Auditorium on New York's East Side.
Mahler Gig #2
In 1996, when I was living in Prague, I had my next Mahler gig with a professional orchestra, once again, the Kindertotenlieder, and it was more thrilling than I can describe. This was in Slovakia, with the Slovak State Philharmonic in Košice. Košice is the largest city in eastern Slovakia, with many heritage-protected Renaissance, Gothic and Baroque structures, and near the Slovak Ore Mountains. Unfortunately, I do not recall the name of the American-born conductor of this performance.
Mahler Gig #3
In 1998, my father-in-law, Milan Vitek, was asked to guest conduct the Prague Radio Orchestra, and – lucky me – Milan invited me to choose a piece to perform as a guest artist. (I am very excited to see that Milan has a detailed Wikipedia page).
Of course, it was a "no-brainer" – it had to be Mahler. It was between Das Lied von der Erde or the Rückert Lieder. Milan was fine with either choice, so I chose the former. This piece is written for full orchestra and two vocal soloists, a mezzo-soprano and a tenor. A number of artists have "fiddled with" that configuration – for instance, Thomas Hampson has recorded the mezzo movements with tenor Paul Groves, and recently Jonas Kaufmann released a recording where he is singing ALL SIX of the movements. I reserve judgment on that endeavor.
But back to my Das Lied. The less said about the tenor the better, so I will concentrate on my own preparation and performance. We were living in Copenhagen then, and I had about 5 months to prepare the piece. With the help of my teacher at the time, the wonderful Susanna Eken, I worked through the various range issues (from very low to medium high), as well as the nuances of the score. In addition to weekly lessons, I practiced at the piano EVERY DAY – speaking the text in rhythm, singing certain problematic sections over and over – in other words, living with the 3 mezzo movements organically. A work of this complexity and magnitude requires through preparation and study of detail.
I also made a trip to Germany to coach with the famous English contralto, Anna Reynolds.
From Wikipedia:
Anna Reynolds (4 October 1931 – 24 February 2014) was an English classical mezzo-soprano and contralto singer in opera and concert.
I had met Anna when she made a trip to NYC in the late 1980s, and had a coaching with her on Fricka at the Liederkranz Society, as I had just been cast in that role with Arizona Opera (ww.azopera.org). So when I knew I would be singing Das Lied von der Erde, I contacted Anna about coaching both the Mahler and Wagner pieces and made the trip from Denmark to Germany to spend 4 glorious days with her, having daily coachings.
Here is a YouTube link to Anna's performance of the mezzo's first movement, "Der Einsame im Herbst" (The Lonely One in Autumn).
Two of the three mezzo movements (alternating with three movements for the tenor) are slow, sad, reflective. Same for the tenor, which opens the cycle with a Wagner-like, clarion passage ("Das Trinklied vom Jammer der Erde"/The Drinking Song of Earth's Sorrow). Which lead my colleague George Gray to comment, "Yes, the mezzo has all the glory and the tenor all the pain."
When it came time to travel to Prague for Das Lied, I felt thoroughly prepared. It was truly a memorable experience, especially collaborating with my father-in-law. The last movement ("Der Abschied"/The Farewell) is especially heart-wrenching and beautiful – 30 minutes of total concentration, sadness, and redemption. As many of my colleagues can relate, it was an awful lot of work and study for just one performance, but it was oh so worth it.  Suffice it to say that this performance totally cemented my love of Mahler and deep appreciation of his genius.
Below are some photos of my piano vocal score and the venue in Prague, where Das Lied was performed on March 31, 1998 in the Dvořák Hall of the Rudolfinum.
Mahler Gig #4
As much as I loved preparing and performing Das Lied, for any mezzo, the "Urlicht" movement of one of Mahler's most popular symphonies, the Symphony No. 2 ("Resurrection"), is the ultimate. Now, note-for-note, Das Lied far outweighs Symphony No. 2.
This is a huge work for full orchestra, large chorus, and soprano and alto soloists. The 4th movement, "Urlicht" (Primal Light) is a 6 minute, stand-alone movement for orchestra and alto solo, who enters a cappella.
The fourth movement, Urlicht, is a Wunderhorn song, which serves as an introduction to the Finale. The song, set in the remote key of D♭ major, illustrates the longing for relief from worldly woes, leading without a break to the response in the Finale.
You can find extensive information all over the internet about this monumental work. Here is the Wikipedia link:, and you can find the full text of "Urlicht" here, with an English translation
I performed this work twice with the New Hampshire Symphony Orchestra in May of 2004, with Kenneth Kiesler conducting, at St. Marie's Catholic Church in Manchester, NH. (Sadly, this was one of the last seasons for the NHSO). There were two performances. In addition to the solo fourth movement for alto, the last movement, for full forces, has some beautifully soaring passages for the two solo singers (the soprano does not sing until this movement).
Again, I was overwhelmed by the force and poignancy of this music. To stand before a fine orchestra with a wonderful conductor and sing this movement alone was a privilege few singers ever have. Here is my live recording of "Urlicht" :
This symphony is frequently played in memorial concerts for certain solemn occasions. Here is a link to the 10th anniversary of 9/11 performance by the New York Philharmonic:
https://nyphil.org/watch-listen/audio/broadcasts/1011/a-concert-for-new-york
Mahler Gig #5 (almost done!)
Mahler's Symphony No. 8 ("Symphony of a Thousand" as it is sometimes called) is another vast work for full orchestra, chorus, and 8 soloists.
It is one of the largest-scale choral works in the classical concert repertoire. Because it requires huge instrumental and vocal forces it is frequently called the "Symphony of a Thousand", although the work is normally presented with far fewer than a thousand performers and the composer did not sanction that name.
Here is more from Wikipedia:
The structure of the work is unconventional; instead of the normal framework of several movements, the piece is in two parts. Part I is based on the Latin text of a 9th-century Christian hymn for Pentecost, Veni creator spiritus ("Come, Creator Spirit"), and Part II is a setting of the words from the closing scene of Goethe's Faust. The two parts are unified by a common idea, that of redemption through the power of love, a unity conveyed through shared musical themes.
Mahler had been convinced from the start of the work's significance; in renouncing the pessimism that had marked much of his music, he offered the Eighth as an expression of confidence in the eternal human spirit. In the period following the composer's death, performances were comparatively rare. 
This work engages eight soloists (3 sopranos, 2 altos, tenor, baritone and bass). I was engaged by conductor Jonathan McPhee, then music dierector of the Nashua (NH) Symphony, to sing the second alto role of Maria Aegyptiaca (Mary of Egypt). The part is low but very heart-felt and beautiful. The forces for this performance included the Lexington (MA) and Nashua Symphonies as well as the respective symphony choruses. I am not sure if there were "a thousand" singers and instrumentals on hand, but it certainly seemed there were. We did one performance in Lexington and one in Nashua.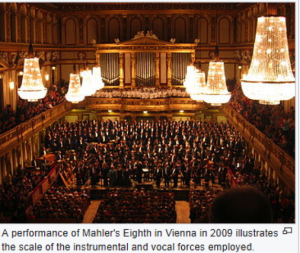 This was a wonderful way to "round out" my 10+ years of professional Mahler singing. I have also sung numerous songs in solo recitals throughout my career, but nothing can compare to the privilege and joy of singing Mahler's music with a full orchestra. I hope you have enjoyed this personal reflection on "Mahler and Me" (which may have seemed as long as some of his symphonies)!