Legendary Soprano Leontyne Price Turns 90 Today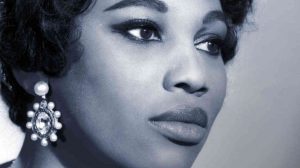 Leontyne Price is considered one of the greatest operatic sopranos of all time, and indisputably the most accomplished black woman in opera history. This world renowned icon and legend turns 90 today.
She was a superstar at New York's Metropolitan Opera and worldwide. One cannot begin to scratch the surface in exploring her talents, accomplishments, and lustrous career.
In my early days of exposure to opera, I became aware of Miss Price when my beloved Aunt Jeanette gave me a subscription to Musical America magazine. In 1962, Leontyne Price was named Musician of the Year, and the cover of that issue was a gorgeous oil painting of her beautiful face. The image projected not only beauty, but a nobility and warmth that,I believe, guided her life and artistry. I have looked for that image online and though there are thousands of photos and paintings available, I could not find that one.
About that same time, I was given an LP album of arias, and just about wore it out listening to it incessantly. Fortunately, I have acquired a two CD set of about 35 arias and songs, remastered digitally. Ah, modern technology.
I was fortunate to hear Leontyne Price in person twice once I moved to NYC in 1978. Around 1983, she appeared as Leonora in Verdi's Il Trovatore. Verdi was certainly her forte, being a world famous Aida, among other signature roles. The burnished color, meltingly beautiful piano singing, and total commitment of her artistry was something to behold.  In another live performance (I can't remember the year), she sang the role of Ariadne in Strauss's opera Ariadne auf Naxos. Honestly, German opera was not really suitable to her voice, but still, it was a privilege to hear such an artist no matter what the repertoire.
I encourage everyone to learn more about her by Googling Leontyne Price, and visiting YouTube to find thousands of recordings. Here is one of my favorites, "Tacea la notte placida" from Verdi's Il Travatore.