SAVE THE DATE! October 3, 2020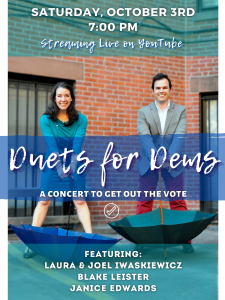 Laura and Joel Iwaskiewicz perform Duets for Dems, a program of 16 songs from musical theatre to entertain and bring joy during these uncertain times – and most importantly, to get out the vote in support of Democratic candidates up and down the ballot.
Laura and Joel will host a YouTube live stream at 7:00 PM EDT on October 3. Local distinguished artists also featured are Blake Leister, Collaborative Pianist, and Janice Edwards, Mezzo-Soprano.
Click here https://www.facebook.com/events/700348333890875/ to RSVP to the official Facebook event.