Brief Review of Met's Romeo et Juliette
Last Saturday, 21 January 2016, my friend Anne Orio and I had a thoroughly delightful afternoon at the Live  from the Met HD broadcast of Gounod's Roméo et Juliette at the Hooksett Cinemagic.  What could be more tragically beautiful than this story of doomed young lovers? I had only heard this opera live one other time, when my dear friend and colleague Cindy Sadler sang the role of Gertrude, Juliette's duena, in Atlanta Opera's production last May.
One could not ask for a better cast than that which the Met is currently offering. The enthusiasm and passion of the two principals, Vittorio Grigolo and Diana Damrau, were poignant and heartbreaking, only because we, the audience, know what is in store for them. These artists are perfectly suited visually and vocally for their roles. The production design was appropriate (though set about 100 years later than the original story set in 16th c. Verona), and with only one intermission, the action was compact and moved along at a thrilling pace.
You can hear tenor Vittorio Grigolo's beautiful rendition of Roméo's aria, "Ah! leve-toi soleil!" (as he is approaching Juliette's balcony) here: https://www.youtube.com/watch?v=B-NZlCVSH0E
Next up on February 25 is one of my very favorite operas, Antonin Dvorak's Rusalka. This is the story of The Little Mermaid, only with a much more tragic ending than the Disney film. I sang the role of the witch, Jezibaba, when I was living in NYC back in the 1990s. Fortunately, the director decided to make Jezibaba a glamorous witch instead of an old hag! Here is a photo.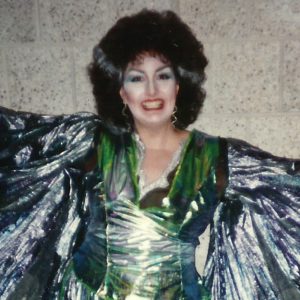 I do hope many of you will attend.