Wagner: "Mythology, Mysticism, and Masters" presented by the Boston Wagner Society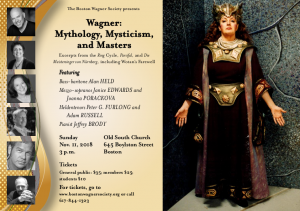 Janice Edwards, Mezzo-Soprano, will make her Boston Wagner Society debut singing excerpts of two iconic roles from Richard Wagner's Der Ring des Nibelungen (the "Ring Cycle") on Sunday, November 11, at Old South Church in Boston.
Janice will sing the role of Sieglinde to tenor Peter Furlong's Siegmund from the first act of Die Walküre (The Valkyrie). Switching hats, she will then sing "Fricka's Lament" from Act II of the same opera with world-renowned bass baritone Alan Held singing the role of Wotan.
Here is the Society's beautiful marketing poster with photos of all the artists and information about the concert. Also shown is Janice in full Fricka drag from Arizona Opera's 1998 "Ring Cycle".
Excerpts from other operas include Das Rheingold, Siegfried, Götterdäammerung, Die Meistersinger, and Parsifal. In addition to Alan Held and Peter Furlong, Janice will be joined by Tenor Adam Russell, Mezzo-Soprano Joanna Porackova, and pianist Jeffrey Brody.
 All-Wagner concerts are rare these days, especially in New England.  So please call 617-844-1323 for tickets (they are selling like hotcakes!) The concert begins at 3:00 pm.